Ikoyi
London, UK
May 04, 2023
Ikoyi squeaked in near the bottom of the list in 2022 at 49th. Ikoyi has also received Michelin's 2 star rating.
As I approached the end of the list, I was feeling hesitant. What is it going to mean to complete this adventure? Well, it will have definitely meant that I enjoyed a lot of good food in a lot of amazing places, at the very least.
But let's not get ahead of ourselves here. I still had two restaurants to go. And with determination to reach the end, I made the last two bookings, the penultimate of which was Ikoyi.
I had seen a feature on the restaurant on YouTube where it talks of its Nigerian cuisine influences. With it being a new addition to the list in 2022, and with London being a city relatively easy to get to from Ottawa, it felt like a good choice on relatively short notice.
---
The meal starts off with the Gola Pepper Broth that was fragrant and very tasty. Next, Smoked Sirloin & Aged Mackerel with sweet potato. Lovely smoked flavours with a hint of citrus and a shell that had a wonderful crunch without being too thick.
Cuttlefish, White Asparagus & Vadouvan tasted like Campbell's vegetable beef soup, giving me vibes of my childhood. A smokiness and a hint of spice in this dish levelled it up. Drunken Chicken Toast made with a French wine and topped with spring onions. I enjoyed the contrast of the warm toast to the cold onions.
Mussel & Saffron Crème Caramel with caviar came paired with a rosé champagne that wasn't as sweet as expected given the sweetness of the dish and yet still paired well.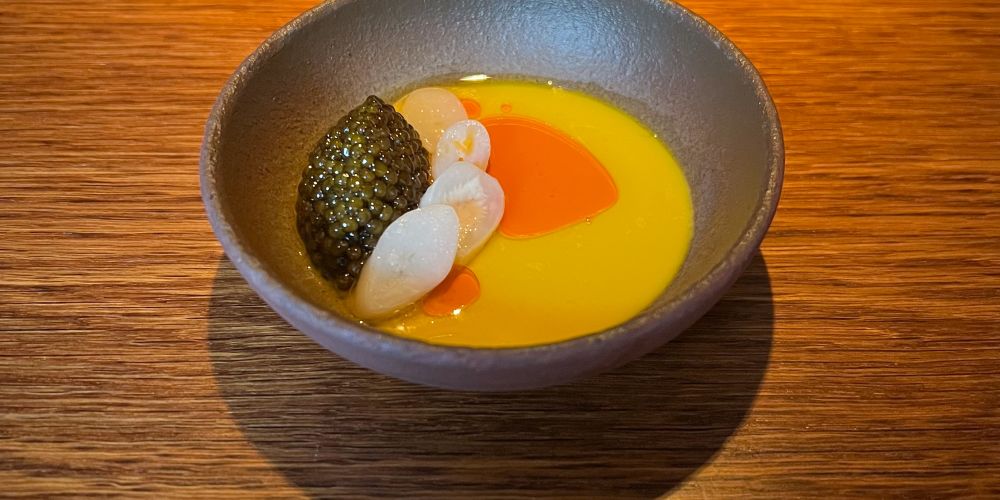 The Octopus & Peas with broccoli sprouts had a nice balance of sweetness and spice.
Poached Middle White, Agrodolce & Spring Greens was paired with a sherry. I often find sherries rather astringent but when paired with something fatty, it really helps sweeten the wine and this dish did much the same.
I didn't take any notes about the Moin Moin, Duck Egg, Scallop & Hay dish.
The Asparagus Efo, Savoury Pistachio & Seaweed and Scarlet Shrimp & Yeasted Bernaise were served together. These were paired with a sake that I found improved with the course, bringing out more umami notes. The shrimp tartlet had a bit of kick that left a spicy heat in the back of the throat. The herb sauce in the tartlet brought out a bright note in the sake. I definitely enjoyed the sake pairing.
Next up was the Turbot, Crab Bisque & Egusi Miso and the Barley bread glazed in butter. The bread was interesting because it was served in a cylindrical shape and reminds me of my grandma making Christmas pudding in an old food tin. The density and springiness of the bread was similar to that Christmas pudding, too, now that I think of it.
The last three savoury dishes are served together: Native Breed Rib, Rye Porridge & Green Goddess, Smoked Jolly Rice & Lobster Custard, and Timur Pepper & Rosé. Lots of strong flavours going on but the wine got lost in all of that.
There's a strawberry sorbet to transition us into the desserts.
Overripe Plantain, Schrenckii Caviar & Raisin Caramel that was sweet and salty.
Finally, a trio of petit fours: Roasted Cep, Salted Caramel & Pine, Rhubarb & Passion Berry, and Suya Ganache & Preserved Citrus with this last one probably being the most interesting of the three.
Verdict
Overall, I enjoyed the meal. Similar to Atomix, I liked that some of the dishes had a bit of spice. Everything felt well executed but I did note that the pacing of the dishes was a bit off mid-way through the meal.
If you find yourself in London, it's definitely worth a visit. Although, it's got some hefty competition in the city, as The Clove Club and The Ledbury are solid restaurants in their own right, too.