Blue Hill at Stone Barns
Pocantico Hills, USA
May 26, 2023
Blue Hill was 11th on the list in 2017, 12th in 2018, and 28th in 2019. It has also received two Michelin stars.
It's been quite the adventure, travelling the world to enjoy amazing food in incredible locations. The quest ended somewhat where it started: New York City.
While Saison was the first restaurant that I went to that was on the list the year I started this quest, Cosme, Eleven, and Le Bernardin in New York were the trio of restaurants that I first booked after deciding to eat my way around the world starting in June of 2018 while enjoying dinner in Amsterdam with Kitt and Andy, frequent companions along this five year adventure.
Blue Hill at Stone Barns made a fitting finish and equally fitting to have Kitt join me for this final restaurant. She and I met up and headed to Grand Central station to catch the train up to Tarrytown, the nearest stop to Pocantico Hills where Blue Hill is situated.
"How does it feel," she asked, and honestly, I had mixed emotions. I stared at the ceiling of the station, the mural of constellations mapping the sky like my list had me mapping the world with restaurants as stars.
Many restaurant chefs have reached star status and Chef Dan Barber is no exception, having been featured in season one of Chef's Table.
---
We arrived at four in the afternoon to take in a tour of the farm beforehand. It was a lovely and informative tour about how they manage the land and build their menu for the guests using fresh ingredients from the farm and city markets. Fresh white asparagus was pulled from the field. Some small samples of bread, and cheese, and drinks got us started.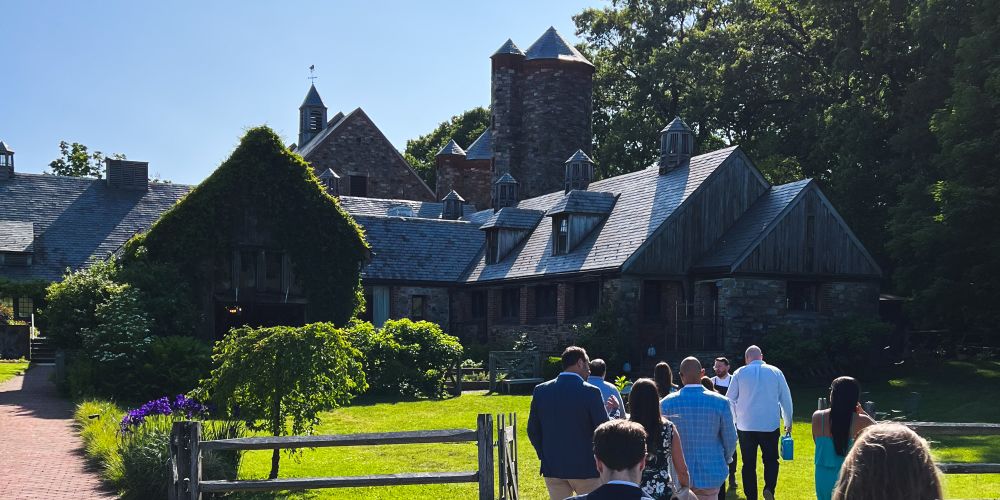 Shortly after 5pm, we were sat in the main dining room and the flurry of spring vegetables hit the table. Ficoides and cucumber vines, hakurei turnips, 'spinach' lettuce and sassafrass, white asparagus, and kohlrabi. All served with an assortment of salts and sauces.
There were habanada peppers that were dried in a way that made them translucent. Empress flowers with cheese inside them. And peach thinning olives: peaches cut off early to help the rest of the tree produce better fruit.
A plate of meats included a retired dairy cow figatellu. It's a bit unusual to hear all about the specific animal used for particular dish but I appreciated knowing that the chefs are really trying to consider the entire lifecycle of not only the vegetables but animals, as well.
The buckwheat, ramps, and plum was served with a shaving of cheese on top and was particular delicious. Then washed down with a glass of chufa milk. Then "the buckwheat family" which was a sweet dish that could have easily been served as a dessert.
This was maybe the halfway point of the meal.
Maine amberjack served with peas and strawberries. The sweetness really went well with the fish. Then bycatch butterfish and montauk squid. When trying to catch fish, butterfish is an inevitable but delicious bycatch that Blue Hill integrated into the dish.
The white asparagus, perfectly in season and perfectly seasoned, made an official appearance. Four year old oyster grilled was served with preserved eggplant.
Green saber celtuce was served with yoghurt, pine nuts, and strawberries—again, providing a bit of sweetness that was unexpected so far into the meal. Garleek with fava beans was next and I couldn't miss the opportunity to make a joke about having a nice chianti.
Rounding out this "phase" of the meal was Maine halibut with peas from the greenhouse.
---
From there, we moved to a table in the kitchen. There were easily 20 cooks working away, including the inimitable and aforementioned Chef Dan.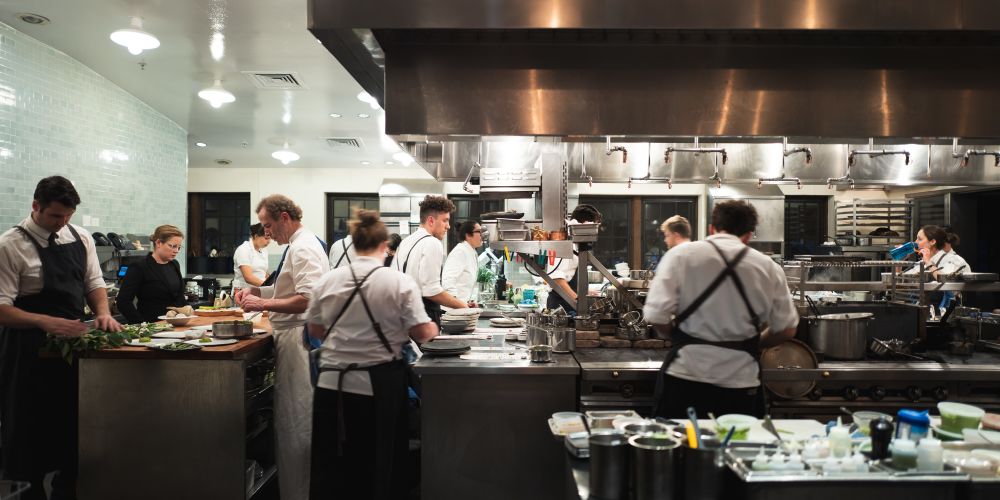 One of the cooks came over to have us try some barley in olive oil. It had an interesting bouncy texture. She mentioned that she had Celiac disease and couldn't try it herself, which is fascinating. How do you prep a dish you can't try yourself? (Which reminded me of Grant Achatz, from Alinea, who lost his sense of taste while battling sickness and had to rely on his crew to help.) We asked questions and made suggestions and she came back with a tin of newly prepared barley for us to try.
After that, was a barley pasta that reminded me of ramen noodles without the broth.
And then there was the experimental purple rice, bamboo, and black garlic. Again, delicious.
---
Once again, we move stations—this time, into the barn. This barn, we were told, was used to store manure many years ago. It has obviously been revamped into a candlelit, picturesque room overseeing the farm. The barn doors were open, the crickets were chirping. Blankets were provided to keep us warm but I had enough alcohol by that point to be toasty warm without it.
We were served pasture-raised lamb offal including brain butter, and a skewer with heart, kidney, and liver. And an over-wintered onion. A rich dish that provided some additional warmth for the cool spring air.
---
We're brought back into the dining room where most everybody else had since completed their meals and left, leaving only three other tables and ourselves. Either we were eating slowly or they were giving us an extended experience worthy of being the last of such a long journey. Absolutely no complaints from me but there was still more to go.
The savoury dishes continued with Blue Hill Farm ricotta, six year old grass-fed beef ribeye, and a rotation grain tortilla and Hudson Valley mole with lamb jowl. Absolute perfection. (The taco felt like a throwback to our time at Pujol, which we mentioned during our time in the kitchen. Was this preplanned or a last minute addition? I don't know but c'mon, how perfect is that?)
We finally get to the desserts. Blueberry, yoghurt and blackcurrant. Einkorn and caramelized honey. Strawberries and beets that looked like meat but tasted like anything but. It was so good.
Oh, and a surprise piece of birthday cake!
To wrap up our meal, we had our petit fours: chufa cones, bananas from the greenhouse, preserved peaches and apricots, and first of the strawberries. The bananas are an experiment to try to grow them in the northern climate, most of which didn't make it. These bananas were from what survived and they were delicious.
---
The focus on sustainability reminded me a lot of my experience at Alchemist. The amount of creativity at Blue Hill to build a menu that is different each evening and even different at each table is astounding.
Blue Hill was a fantastic experience and was probably the perfect way to finish off this incredible adventure. The service was friendly and attentive1, the food was delicious, and the wine pairings were a great accompaniment. I highly recommend going.
With this journey coming to a close, I have some final thoughts...
---
My only begrudging comment is that the service staff twice accidentally served us sparkling water instead of still water. Both times, the issue was quickly rectified. ↩︎