The Ledbury
London, UK
January 21, 2019
The Ledbury is the 12th restaurant on my quest to visit 50 of the World's 50 Best Restaurants. It was 42nd on the list in 2018 and 27th on the list in 2017. It has also received 2 Michelin stars in 2019.
With a cold virus still lingering days after beginning this London adventure, we venture on for A Night at The Ledbury!
Like at Lyle's, I chose to forego the wine pairing. It pains me a bit since we've learned that The Ledbury is highly rated for its wine selection. Well, on Foursquare, it is. (And as we'd learn later, one of the sommeliers was a Vancouver native!)
We were given a choice between an a la carte menu or the tasting menu. As is likely no surprise to anybody, we went with the tasting menu.
In quick succession came a trio of canapés. All three of which were delicious and a sign that this evening was going to be amazing.
All of the dishes at the Ledbury were consistently good. The oyster to start was delicious. The Agen Prune was phenomenal. I enjoyed the deer served three ways. The cheek was tender. The tongue a bit tougher but still prepared well. And lastly bone marrow that was delicious.
We overstuffed ourselves by adding a cheese course. We probably could have skipped the cheese. Their cheese selection was okay but not phenomenal.
The desserts included a passionfruit curd—the palette cleanser, and a satisfying one at that. Next were sugared donut balls followed by a brown sugar tart that was sublime. They even brought us extra donuts. Yup, we definitely left stuffed.
---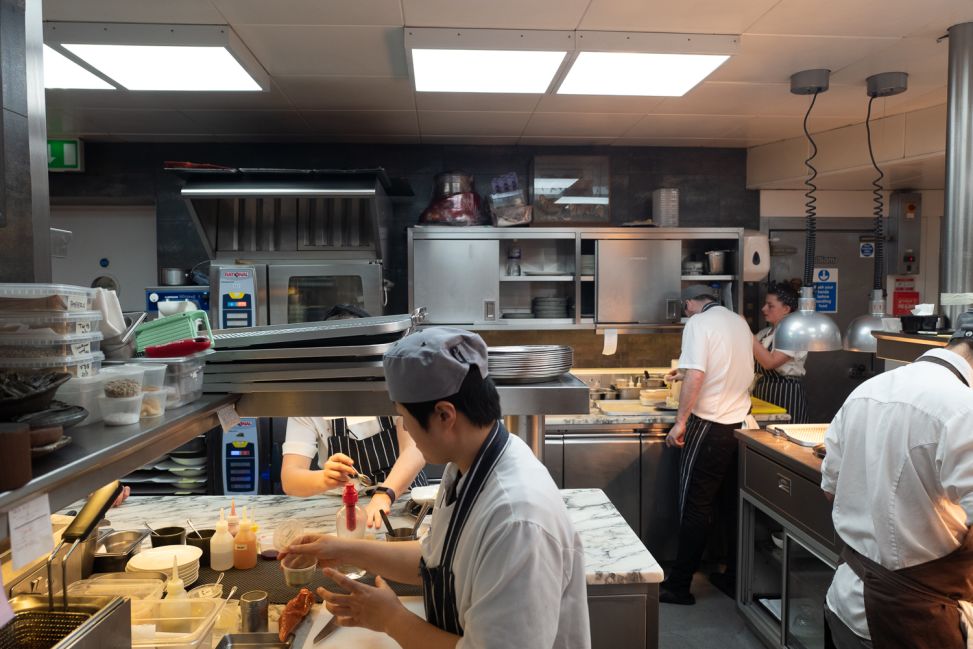 We mentioned to the waiter that we were doing this food adventure, as we had at The Clove Club. At the end of the meal, they offered to have us meet the chef, Jake Leach, and we kindly took them up on the offer. The kitchen at the Ledbury is in the basement and surprisingly small given the size of the restaurant. It's amazing what they put together in such a small space. I really enjoyed meeting the kitchen staff and chatting with them. The whole team seemed so young! But I think it's likely a sign that I'm getting older.
I highly recommend the Ledbury. If you ever find yourself in London, it's worth the trip.