DiverXO
Madrid, Spain
August 24, 2022
DiverXO popped up at 20th on the list in 2021 and jumped to 4th in 2022. It is also a Michelin 3-star restaurant.
Sometimes things work out for the best.
I discovered that the website is adamant about being unable to adjust a reservation afterwards. I put out numerous requests for someone to join me for dinner in Madrid, but was unable to make anything work. Therefore, I was going alone.
---
Madrid has been swelteringly hot—especially in comparison to Oslo and northern Spain the week prior. The heat lingering well into the evening after the sun had set. The rather wonderful Airbnb apartment I was staying at was in the heart of the touristy and busiest part of town, overlooking (the aptly named, considering the weather) Puerta del Sol.
The restaurant was far enough away that walking there would leave me drenched in sweat. Not something I was keen to do. It was also a part of the city I hadn't explored yet so I hopped on the metro, getting out somewhat near the restaurant and using the opportunity to explore the area. As it turned out, the area didn't really have much that needed to be explored. I scoped out the restaurant and then found a nearby park to relax and kill some time until the restaurant opened.
Upon arrival, the entry is two storeys high and filled with kitsch and wonderment. Large flying pigs in tutus, a painting of a pig drinking wine, colourful pinwheels on the wall, and hundreds of butterflies affixed to the ceiling.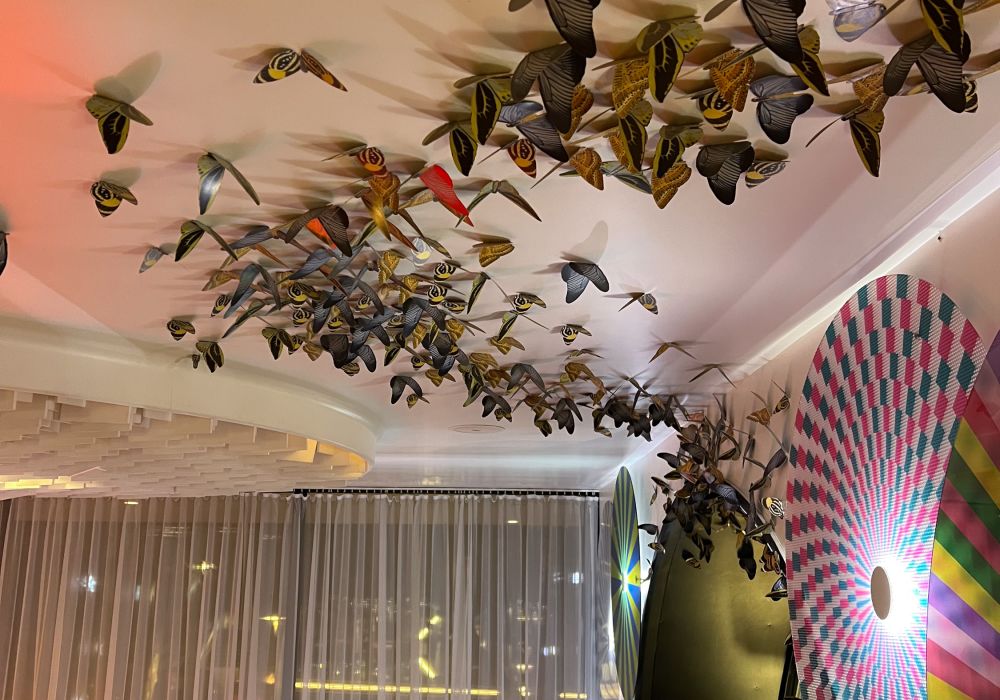 I'm escorted up the stairs, through sliding doors, into the dining room where each table is enclosed with sheer cloth that drapes from the ceiling. The drapery provided privacy while the sheerness avoided it from feeling claustrophobic. On the table was a beckoning cat—er, pig—that would be my companion for the start of this meal.
Before the meal starts, I'm supplied with an open-ended envelope with the profile of chef David Muñoz's face. I'm informed that each course will be accompanied with a card that will describe each dish. I am absolutely delighted. A similar experience was had at Atomix and it absolutely enhanced the meal by allowing me to refer to the card instead of trying to remember the onslaught of descriptions from the waiter.
---
The first course is presented in two parts: a grilled embryonic egg yolk and a cold poached pigeon leg. The yolk was served with caviar, marine plankton, and a palo cortado wine macaroni that looked see-through. I'm learning that I like egg yolk just fine. It's egg whites that I have a mild aversion to.
The leg, presented on a nest of hay, is very clearly the leg with the foot still clearly attached and I'm reminded of the time my ex-wife who, upon receiving her order of half chicken, stared at the dish and refused to eat it due to it looking like a chicken. I had no such hesitation with this pigeon leg and quite enjoyed the succulent bbq-sauce-like flavours.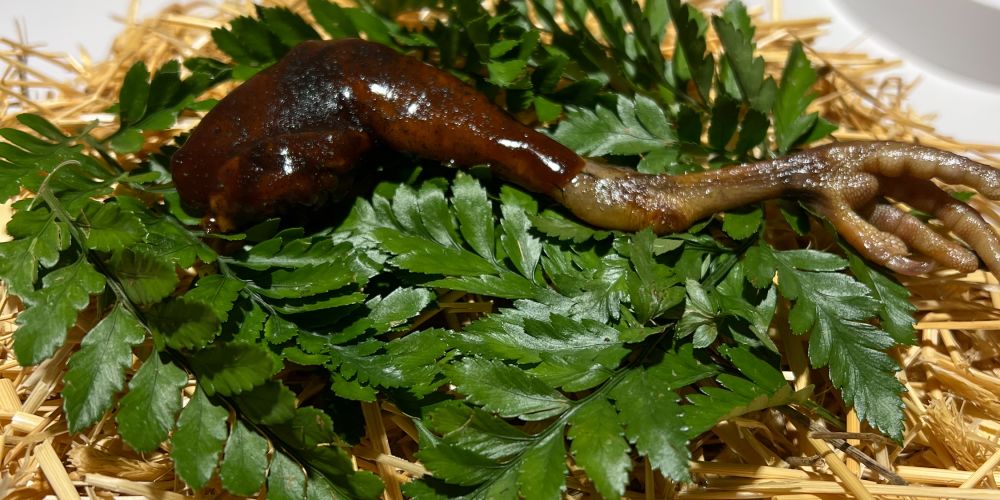 The next course is a trio of Thai-inspired dishes: a Thaiparinha, Green Curry, and Laksa Singapore. I enjoy a caipirinha, a Brazilian cocktail made with cachaça, and this Thai version with white Thai rum, ginger-lemongrass liquer, and lychees was delicious.
Green Curry featured tear peas softly sautéed in the wok for 8 seconds. Eight. Seconds. Homemade jalapeño peppers and matcha green tea curry. Finger lime. Emulsified butter whey with fine herbs. Very light, fresh, and tasty.
The roasted thighs with bbq bacon was also delicious. I assumed they were chicken drumsticks but turns out they were frog legs. The bacon provided a surprising bit of crunch.
The tuna course provided cured red tuna belly with a tomato consommé that was cooked for 24 hours. The crispy skin was fantastically contrasted with melt-in-your-mouth tuna. Along with this was a tuna marrow marmitako that reminded me of Kobe beef. Absolutely divine.
I've mentioned that I find sherry astringent but when paired with the fatty tuna, it was amazing. The sweetness of the sherry came through. And the brightness of the consommé provided yet another contrast to the tuna.
The amusingly named "frosted salad from the back of the fridge" was surprisingly good. Ice crystals provided delightful texture to the lettuce. This was served along side turbot, sea bream, and sea bass. Each one was cooked skin-side only, providing crispiness contrasting the soft and juicy meat. Every single one was perfection.
The next four dishes were presented (mostly) individually:
First was the baby eels and after hearing Andy talk about his struggles in eating raw baby eels, I was definitely tentative of what to expect. The waiter had a sieve of frozen baby eels and then poured the hot oil over the eels, lightly cooking them. They were then placed on a bed of clams and mushrooms. I needn't've been tentative; the dish was scrumptious.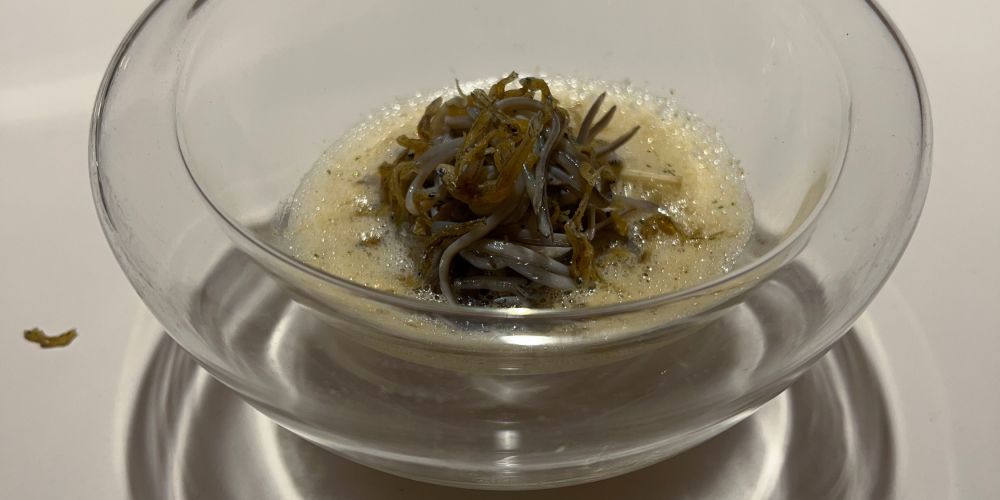 Second was a bite-sized cube of duck foie gras topped with sea urchin on a jalapeño sauce with freeze-dried horseradish bites. I expected more intensity out of the horseradish and jalapeño but was instead met with a mild dish that wasn't overly intense in any particular direction, leaving a delightfully tasty morsel.
Third was their version of a soup dumpling with iberian pork was rich but felt lacking in broth. This was the first dish that lost any marks but lost marks like an olympian getting a 9.5 instead of a perfect 10 on a routine. Still utterly delectable.
Next, was fried egg with black pudding. There was a crisp on top that had it not been there, this dish would felt unbalanced. The crunchiness balanced the tenderness and the brightness balanced the umami. Fantastic. Alongside the egg dish was a bite-sized "crispy bittersweet ear with lily bulb". The flowers gave it a freshness that paired well with the sweetness of the sauce.
We then return to the more eclectic presentations. A three foot tall elephant looking straight out of a Beatles video was placed table-side with an Indian-inspired pani puri topped with lobster claw. Lobster head vindaloo presented in a shell on a cloud of cotton had me a bit worried due to my recent experience at Elkano but I really enjoyed it. This was my least favourite dish of the evening, which is saying just how consistently amazing all the dishes were this evening. Finally, Galician lobster was served with a mature tomato butter massala, sushi rice, tomato chutney, and buffalo butter. The sushi rice was an odd choice but thankfully didn't detract from the dish.
Next was the lamb delivered on a bed of moss with an ornamental golden lamb skull. "Aragon forest moistures," the dish is called. The two bite piece of lamb roasted in the embers of the sarmiento (translates to vine shoot). A broth of lamb with its stewed cheek. And buttermilk with pyrenean herb oil and black garlic gnocchis, topped with a minimal amount of truffle. So many restaurants pile on the truffle and I find it overwhelming. This was perfect.
The final savoury course was kagoshima wagyu. It was tender and full of umami, to be expected, but it didn't blow me away like other wagyu preparations have. This was likely on purpose to be more of a transition into the desserts and didn't overdo it.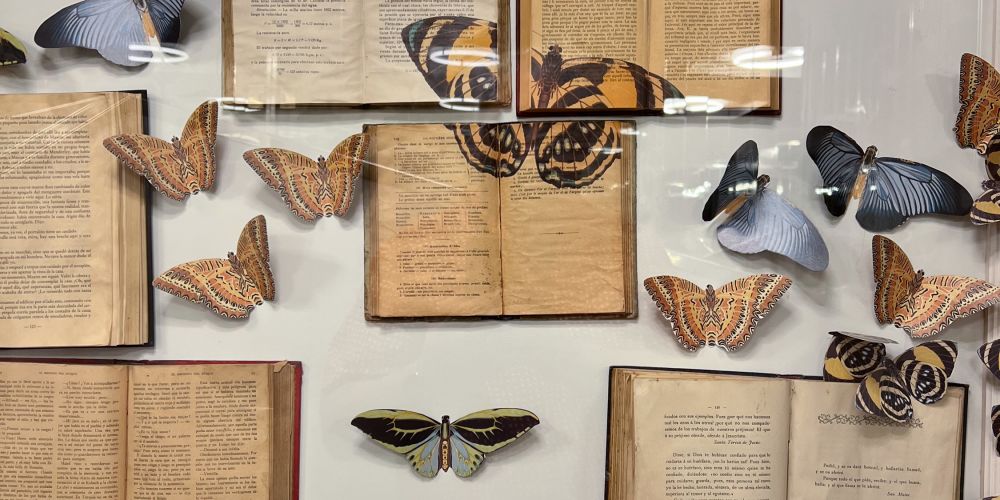 The first of the two desserts was a rice pudding cooked like a risotto, "creamed" with toasted butter, white pepper, nutmeg, and beetroot. About halfway through the course, I noticed bites that started to crackle in my mouth like Pop Rocks, which reminded me of the chocolate cigars at Astrid y Gaston.
The second was titled Blackcurrant Bubblegum that consisted of coconut ganache, black garlic, blackcurrant bubblegum and liquorice with coconut-yuzu ashes ice cream. The "blackcurrants" were filled with a bubblegum-flavoured liquid that tasted like a candy from my childhood. It felt like that moment from Ratatouille but where I was transported for a brief moment to being seven years old buying candies from the corner store.
What an incredible way to end a meal.
Verdict
This was the perfect meal. Everything that I look for was in this experience, from the food to the service. I'd go here once a week, if I could.
The dishes provided contrast in flavours and textures. They were presented creatively. They were bold. The alcohol was expertly paired to add to the experience. The showmanship in the venue, in the attire, and in the dishware demonstrated that everything was thought through.
The menu cards were helpful and are, in my mind, something that all restaurants of this calibre should do. They are useful during the meal, allowing me to identify and understand what I'm eating without having to remember the waiter's lengthy spiel. They are useful after the meal, not only for reference but also as a keepsake from the restaurant. (I have been collecting menus from all the restaurants I've been to on this trip.)
Going alone ended up probably being for the best as it allowed me to be wholly present and focused on the meal. Considering how spectacular every dish was, I would've been a quiet companion from being too distracted by the food to talk.
I'll be back in Spain in February and I think I might plan a couple days back in Madrid just to experience this again.
Photos
The Food
The Menu
The Wine