Atomix
New York, USA
March 22, 2022
Atomix was the 31st restaurant. It was 43rd on the list in 2021 and is a Michelin 2-star restaurant.
Atomix
After two years of a pandemic and having to put this restaurant adventure on hold, I took an opportunity with an Omicron lull to book a trip to New York City. It would also help me test the waters with travelling again. Of course, I never seem to do these adventures half-heartedly and promptly booked four restaurants for my five night stay in the city.
I made reservations with Michelin 3-star restaurants Masa and Per Se, both of which met expectations. Between those, I booked a return visit to Eleven Madison Park. Eleven decided to revamp their entire menu over the pandemic, going completely plant-based. I'll have to find some time to write up that rather disappointing experience.
Thankfully, I was able to finish off the New York trip on a high note with a visit to a newcomer to the list, Atomix, that absolutely exceeded expectations.
Atomix is "new Korean cuisine" by husband and wife team, Chef Junghyun and manager Ellia Park.
When we entered the restaurant, we were led downstairs to an intimate U-shaped bar area with seating for approximately 15 people, with plenty of covid-influenced spacing between each set of guests. The space was covered in lots of wood, which gave it a warm and modern feel. Inside the bar area, the staff moved to present the dishes to each guest. This was similar to Frantzén and a restaurant configuration that I enjoy.
One of the things the restaurant did that really improved the experience over other restaurants was to provide a card with each dish. The cards included a story and a breakdown of the ingredients of the dish. It made each dish more of an exploration, comparing it to the card, identifying each of the ingredients, and really appreciating everything that went into that dish.
I'm not sure if this was something they started doing over the pandemic to limit verbal communication with guests but I want all restaurants to do this now. While I appreciate the excitement that the staff have in explaining everything that goes into a dish, it's also a lot to take in and remember while enjoying the dish. I, inevitably, forget most of these details and when I go to write up the meal—weeks later—I have to make do with my foggy memory.
The meal this evening started off with a few small bites: a bigfin reef squid cracker, an eel & sugar snap pea tartelette, and a changnan jeot in a gim bugak shell.
After our appetizers, we were given our choice of chopsticks to choose from. I picked a lovely set of black wooden sticks and Kitt picked a yellow set to match her yellow drink and yellow phone. (Yes, she likes yellow.)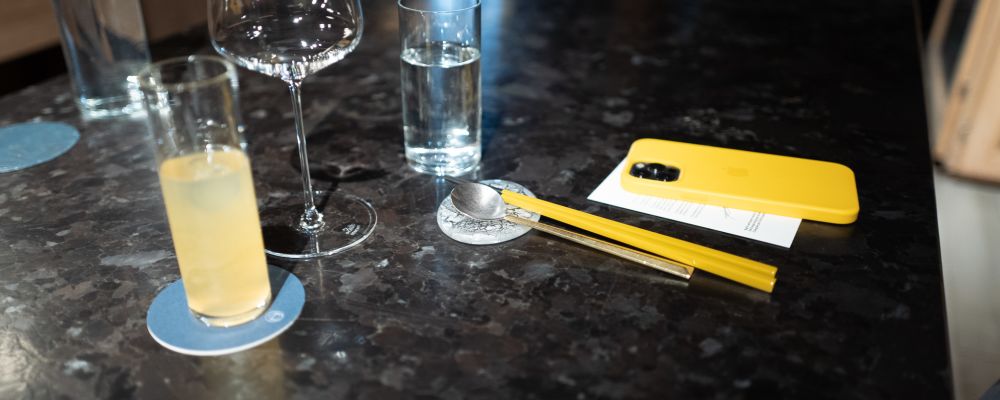 The sea bream with chrysanthemum ice was a nice light start to the meal, which slowly built in intensity over the remaining dishes. Mung bean sprout japchae with black truffle; daepa, abalone, and chunri jang with a side of jicama and Korean pear namul; golden eye snapper, white asparagus, and king crab with a side of octopus and rhubarb kimchi. The horse mackerel topped with berry radish was served on the side of hearty nurungi rice in nokcha broth.
The last couple dishes—sea bass with cheongguk jang, and lamb saddle—had some spicy heat to it and I was absolutely delighted by it. You almost never find spice added to dishes in high end restaurants like this and understandably so—not everybody can take the heat. (Case in point, Kitt struggled to finish the Lamb kalguksu.) And when you're preparing the same dish for everybody in the restaurant, you'll want the dish to work for everybody.
Finally, we finish off the meal with a raisin tree berry tea and popcorn ice cream. Yum!
Every dish seemed well balanced and the wine pairings were absolutely fantastic. They were all European wines from 2019 or 2020 and expertly picked to enhance every single dish.
Overall
The whole experience stood out as exceptional and I'd highly recommend going here. I'd say the experience rivalled Frantzén and would definitely put Atomix near or possibly in the top five.
Photos