SingleThread
Healdsburg, CA
July 13, 2019
SingleThread is the 30th restaurant but really the 20th on the quest. It was 37th on the list in 2021 and is a Michelin 3-star restaurant.
SingleThread
Similar to Benu, SingleThread made it on the list after I had already been to the restaurant. Since Benu qualified with my silly rules, SingleThread does, too. And with a global pandemic making world travel much more difficult, it feels good to be able to add a new restaurant to the list—even if it was on a technicality.
Alas, I am writing this up more than two years later and as such, my memory is a bit hazy…
Kitt and I made the trip up north of San Francisco after having been to Atelier Crenn the night before. I recall not having any idea of what to expect going in.
The venue felt spacious and warm with a heavy Japanese influence. The early evening sunlight beamed through the windows. The kitchen in plain view. (I still delight in the theatrics of a professional kitchen putting together a dinner performance.) I'd almost say it felt less pretentious than Atelier Crenn—not that I found Crenn's restaurant all that pretentious. Maybe it would be more accurate to say that SingleThread had a more relaxed atmosphere, despite the upscale nature of the restaurant.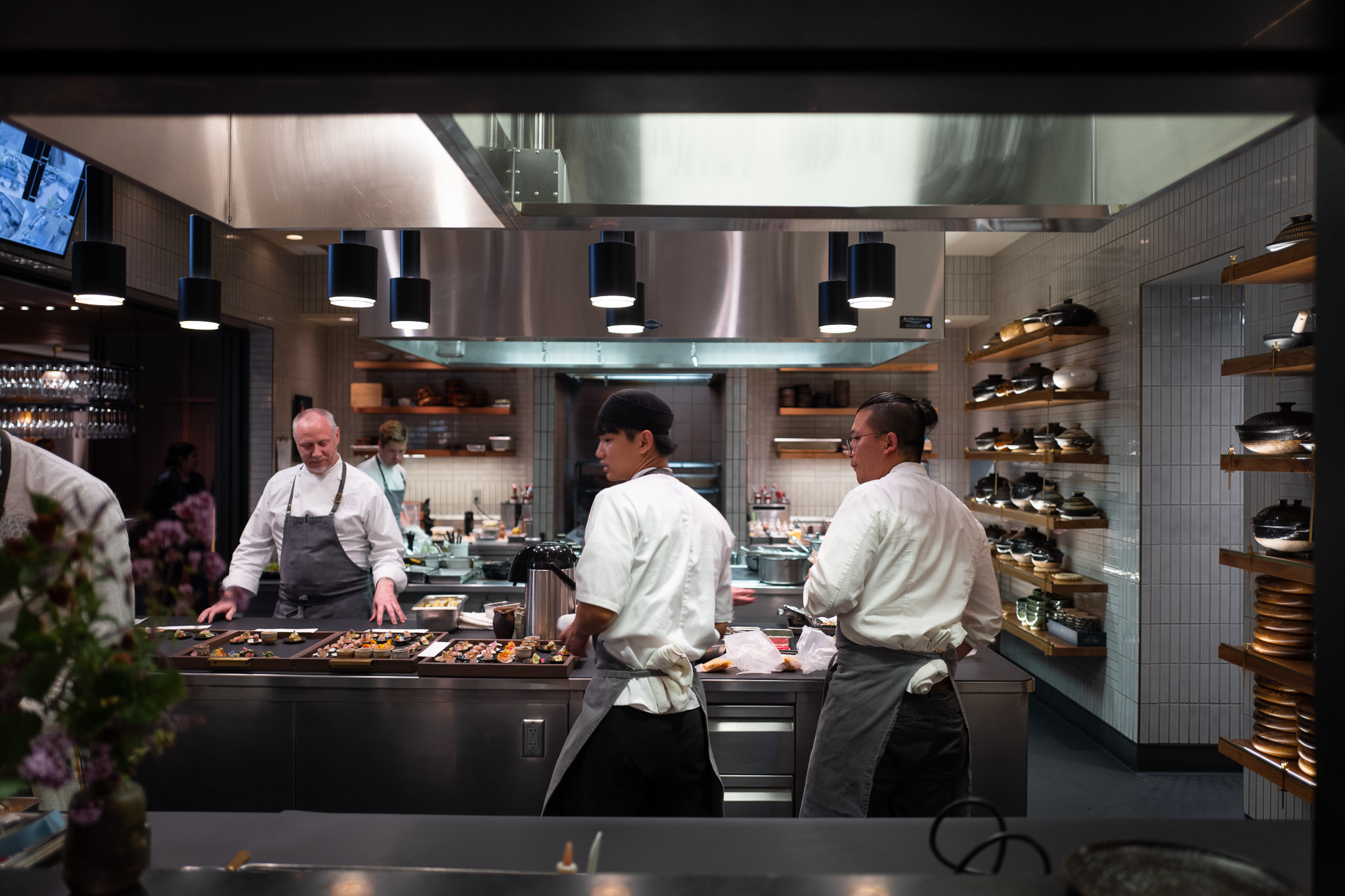 The first "course" was a garden of several dishes. Maybe a half-dozen small plates were placed on and around a bed of greenery representing "early summer in Sonoma".
Then the more standard series of dishes: kanpachi with seaweed; box crab with baby corn; thinly sliced wagyu; peach and cheese with furikake; squash blossoms with black cod; lamb with fava bean puree, green olive, and garlic scape; and Sonoma grains and caramelized mochi mugi, with braised lamb belly and radish.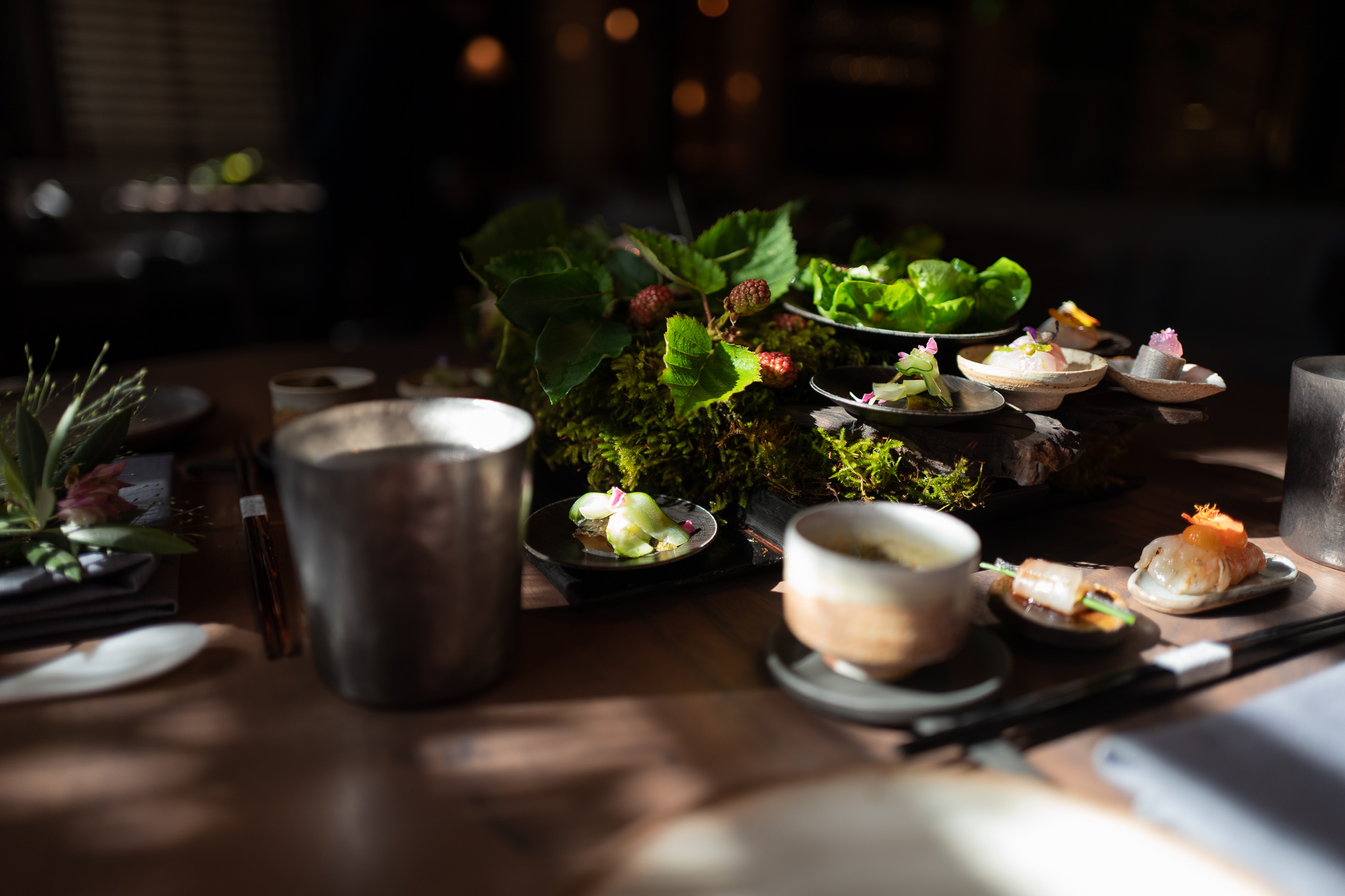 A freeze-dried sheep's milk and ginger yogurt provided the palate cleanser shifting into dessert of frozen mugwort marshmallow with rice cream, Albion strawberry, and koji. Lastly, a handful of wagashi to end the meal.
We finished off the evening with an order of a glass of port from 1920. Yes, a 99 year old port. And it was divine. The best glass of port I've ever had. The rest of the meal may have become a faint memory but that port is seared into my brain for eternity.
As dinner had come to an end, we were escorted to the rooftop deck where we sat, relaxed, and watched the sun set.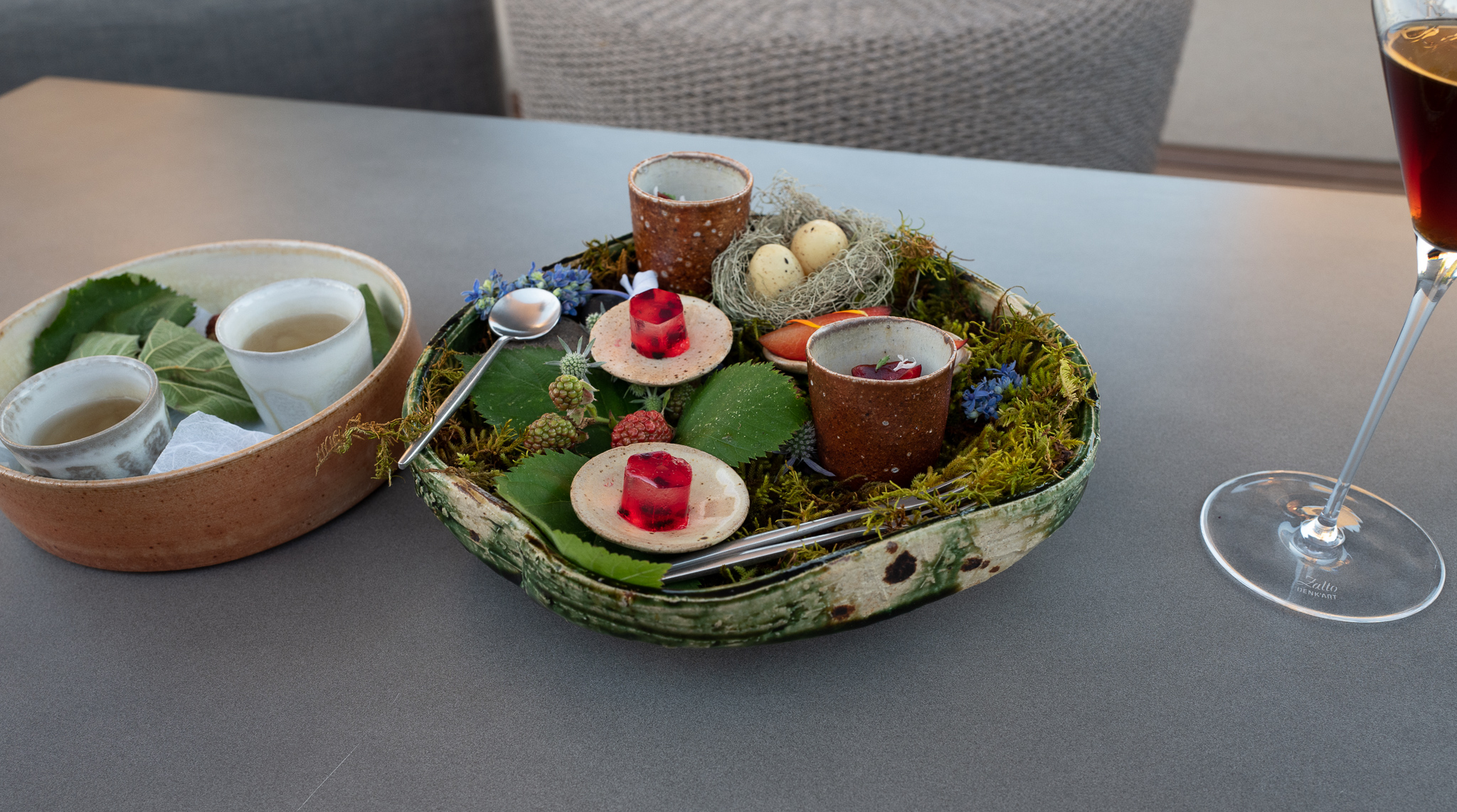 Overall
While it's been a couple years, I recall the meal being an absolute delight—especially, of course, the unforgettable port—and would love to go back at some point.
Photos