Mayta
Lima, Peru
Mayta was new to the list and was delighted to have a chance to check it out. Kitt had made the reservation for the day after Central, so there was a lot to compare it to. (Although not sure we had a chance to fully digest the meal from the night before but this isn't the first time we've had ambitious gastronomy goals.)
The restaurant has a very calm but elegant vibe that set me at ease right from the beginning. Lots of indoor plants and terracotta, with soft lighting throughout. We were first to arrive and sat over to one side of the wide but shallow dining room.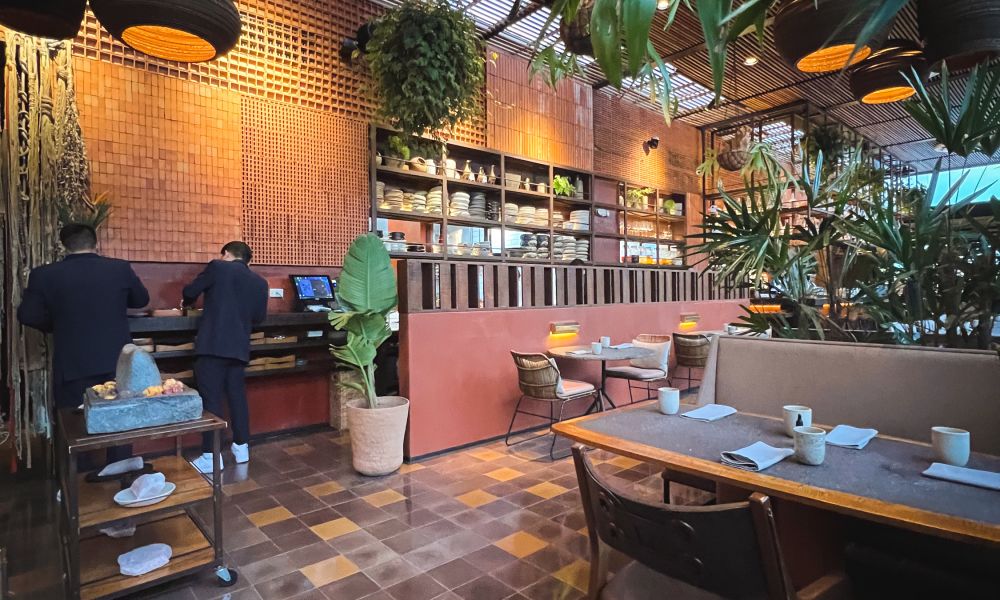 Tubers, unsurprisingly at this point in our Peruvian experience, kick off the meal with sweet and salty layers. Next was the scallops in a creamy citrus fava bean sauce with a cracker topped with puree and fava beans.
The carrots were picked from a farm four hours south, roasted and placed on a carrot purée, and topped with yogurt and carrot powder. The riesling that was paired with this dish was really good.
Baby eggplant in a consumé with fennel oil and served with a cracker and eggplant skin purée topped with ash that gave the dish a nice smoky flavour. The cracker was delicious.
Corn and quinoa dish was served with thin slices of grilled cob that had been coated with ash powder and served on a purée. I found the dish a bit bland but the wine pairing definitely came alive with this dish.
Crab and razor clam wrapped in a codium shell and topped with barnacle slices. I remember having barnacles at Elkano and they were pretty good but I much prefer how this dish turned out.
Next was paiche fish served in three parts of head, body, and tail: sliced on a hard shell and topped with bellaco shavings; grilled; and in a bready ball with an it-might-be-spicy charapita pepper that caught Kitt by surprised.
This would also be my first time eating alpaca with this next dish that featured olluco, chillies, and cushuro. This dish was really good.
Tunta is a freeze-dried potato product that looked like white stones. We had to be careful that we were picking the edible ones out of the bowl it was served with. They had a mochi-like filling that was like cinnamon roll dough before it's cooked.
The Tunta provided a bit of a flavour bridge between the savoury alpaca and the sweet tumbo fruit candies and caigua, an herbaceous fruit filled with passion fruit, cacao, and Peruvian anise.
Next was a corn husk filled with corn and creamy andean cheese and lastly the theobramas, which is a type of cacao tree, served as a drink with a couple of candied sides.
Verdict
Overall, I really liked the dishes here. They were interestingly presented and flavourful without trying to be too edgy. The wine pairings throughout the meal were also quite good with Kitt's notes having me positively remarking on many of them.
I'd definitely come back here and put it up there with the likes of the other fantastic Lima restaurants, Maido and Kjolle. The food and service were fantastic.
Photos