El Celler de Can Roca
Girona, Spain
February 15, 2023
El Celler reached 2nd on the list in 2018 and has been on the Best of the Best list since 2019. It has also received a 3-star rating from the Michelin guide.
El Celler de Can Roca, positioned on the edge of Girona, Spain, can be a tough place to get a table. First, they book out 11 months in advance. Second, the first time I made a reservation, it was March 31, 2020. Surely nearly a year out is enough time for this pandemic to be over. Sadly, that was not the case. I booked it again in March of 2022 during Omicron's surge but had hopes.
Thankfully, things worked out. We had a crowd out for this one with Marty, J and Stacey, and Marnie joining along for adventure.
We were sat at a round table in a corner of the restaurant which provided us a reasonable level of privacy that left me feeling like we weren't disturbing everybody else in the restaurant with our conversations.
The Meal
The small bites at the beginning started coming out. Truffle brioche, escudella (a soup), truffle sandwich, and truffle cream. And then cannellone, cod brandade, roasted chicken muffin, and boletus (mushroom) tartalette. And then a vegetable surf and turf, with seaweed, herbs and flowers.
And then olivada, spring pickles, charcoal grilled chestnut "carpet" with mushrooms and smoked eel, and sea urchin with marrow.
We haven't even started the official menu yet and I already feel like we've eaten so much food. To finish off the abundance of starters we had oysters with palo cortado, game sauce and truffle, along with foie nougat, hazelnuts and cocoa.
Finally we have our first official course: the steamed peas with wasabi and pea sprouts. Next, cauliflower with lychee; then broccoli stalk and citrus pickle; and celeriac and pear. The cauliflower was paired nicely with a muscat, a sweeter wine than I expected. The celeriac was really good, and again, on the sweet side. I noticed that a number of dishes were sweeter than I would have expected but I was definitely delighted.
Next up, artichoke rosette; Calçots with razor clams; langoustine with sagebrush, vanilla oil, and toasted butter (mmmm); monkfish royal with skin stew, cured-smoked monkfish, and charcoal-grilled liver with grapefruit; and fish of the day "suquet". (I forget what the fish of the day is now.)
There's more! Cabbage soufflé, partridge and taragon; "Ramats de foc", lamb with smoked sheep's cottage cheese; and poularde brioche with truffle and fresh herbs sauce to finish the savoury courses.
Dessert
For dessert, "It rains in the pine forest" with pine honey, pine nuts, thyme and oregano; Old book, a cinnamon and cream reduction, toasted powdered milk, earl gray tea cream, madeleine mousse, madeleine cubes, lemon jelly, lemon jam, caramelized crunch and rice paper (oh my); and lastly, "Mexico", creamy white cocoa chocolate from Soconusco, with corn and tortilla chip honey. Again, not being a huge chocolate fan, I didn't appreciate this finale as much as the others.
Even though all of us were thoroughly stuffed at this point, they brought out the collection of petit fours. Marty was a trooper and kept going, whereas the rest of us needed to stop.
---
All the dishes were solidly delicious. It was a lot of food. A monumental amount of food. The wine menu was just as bountiful as the meal with 17 different wines paired with the dishes.
Each of the three Roca brothers—Joan, Josep, and Jordi—came over to say hello at various points in the meal. Stacey was kind and asked to get the menu signed by Chef Joan.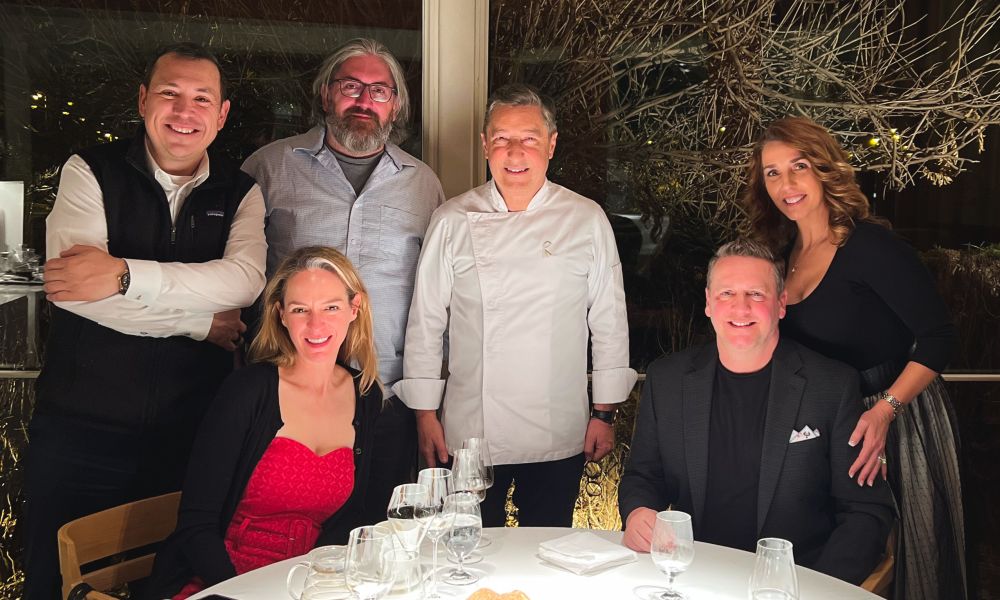 We ended the meal outside having cuban cigars. We pretty much shut the place down, we were there so long. The staff was very kind and accommodating.
All in all, El Celler de Can Roca was a great experience that is definitely closer to the top of the list for me.
Photos