Elkano
Getaria, Spain
August 13, 2022
Elkano was the 33rd restaurant. It was 30th on the list in 2019, 16th on the list in 2021 and 2022, and is a Michelin 1-star restaurant.
Elkano
After Oslo, the next stretch of restaurants were going to be tackled alone. I flew over to San Sebastián where I would take in three more restaurants. The first of which is Elkano. It's in Getaria, a short 20-minute scenic cab ride along the coast of the Bay of Biscay.
I arrived early and used the opportunity to explore the small town which felt like something out of a movie with its tight pedestrian streets twisting between buildings; a Spanish woman hanging clothes on a line a couple floors up, chatting with a man having a cigarette on his balcony a couple windows over; and kids laughing. I even stumbled across the Balenciaga museum—as I would learn that Cristóbal Balenciaga was born in Getaria—and, since I had time to kill, I gave it a tour. It was surprisingly interesting. (And now I have the Lizzo song, About Damn Time, stuck in my head.)
As I walk the streets, I notice pintxos with outside grills—an apparently relatively common thing to restaurants in Getaria, including Elkano.
As my reservation time approaches, I make my way to the restaurant, where I'm sat at a table towards the back, on an elevated section with three other tables. My placement gives me a decent view of the rest of the restaurant. Elkano feels a bit classic (or would "dated" be more appropriate?) with its maritime-themed decor. Plenty of families dressed more casually.
I opt for the tasting menu aptly named A Taste of Biscay Bay. There are no wine pairings but considering the seafood-heavy meal, I opt for a bottle of white wine instead of a red that I might usually prefer. I ask the sommelier for a recommendation. "Can you suggest a white wine that is pretending to be a red?" He manages to do just that as I enjoy one of the better white wines I've ever had: a Clos Magador Nelin Priorat.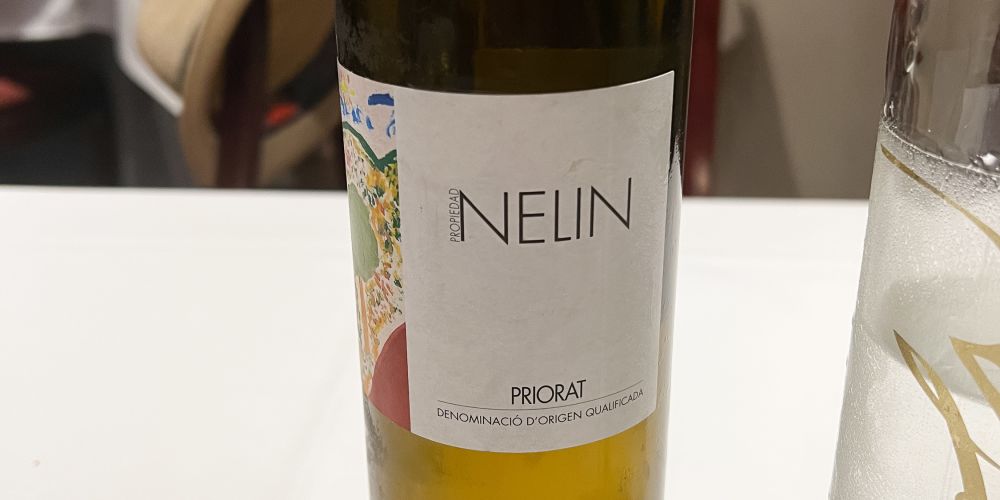 First out is a small bite of fatty tuna that is absolutely delightful. My initial thoughts were that this was going to be the beginning of a beautiful meal. Unfortunately, none of the other dishes held up to the high expectations set from this first dish.
Next up was barnacles. I enjoyed the experience of separating the barnacle from the shell and the tasty salty flavour it had. Slightly chewy but not overly so.
Next, was spiny and blue lobster served with its roe. It was cooked well and tasted great. After that was, what I believe to be the gill of the fish. (I didn't catch the description and no menu was provided afterwards.) Again, decent.
From here on out, the rest of the dishes seemed to have minimal preparation and really relied on the meat itself to do the heavy lifting.
The squid legs were delicious but the head was a bit rubbery without really much else going for it. The shrimp were served in a buttery sauce and required separation from head, shell, and tail before eating, but still tasty. Next, was more fish that was again, served with a buttery sauce that was tasty but not exceptional.
It's right about here where the meal went off the tracks for me. Lobster head (which I, unfortunately, didn't get a picture of) was a challenge as it didn't look particularly appetizing nor did it seem to do much for me flavour-wise, either.
Next was a red fish that hadn't been deboned. As a result, I was picking bones out of my teeth left and right. I feel like there's probably a proper way to eat this that I don't know about. This was followed by a sizeable grouper fish which also hadn't been deboned and, once again, I was picking bones out of my teeth.
I was thankful to switch to the sweet courses, starting off with figs and ice cream. The figs were pretty mild and… unexceptional? It was fine but it wasn't impressive, either.
Lastly was a chocolate cake with coffee ice cream that was overly rich and not to my liking. There were two petit fours served at the end. A truffle that was, again, overly rich, and a cake that was quite good. At least I ended on that high note.
The Verdict
Considering my experience, I'm surprised this is on the list, much less how high it is on the list. If you're a fan of seafood, you'll possibly be absolutely delighted by the experience. For me, however, this has probably been my least favourite of the restaurants I've experienced on this adventure so far.
Photos