Azurmendi
Larrabetzu, Spain
August 20, 2022
Azurmendi was the 36th restaurant. Peaked at 14th on the list in 2019 but fell out of the top 50 in 2022. It is also a Michelin 3-star restaurant.
After a week in San Sebastian, I took an hour and a half long bus ride to the city of Bilbao where I'd spend a few days and take in two restaurants towards my goal—the first of which is Azurmendi.
The restaurant is a taxi ride outside the city, nestled in a hill on the opposite side of a mountain range that hugs the city.
A Series of Stations
I'm one of the first to arrive to the large glass building filled inside and out with plant life. I step through the door and I'm ushered into the atrium that is two storeys high with standing tables and seating provided around the wall of green and the towering trees inside.
I'm offered a glass of champagne and a welcome picnic consisting of paquillo ice cream, smoked fish brioche, Iberian pork tartar, and a cup of red bean juice. All were superb and flavourful.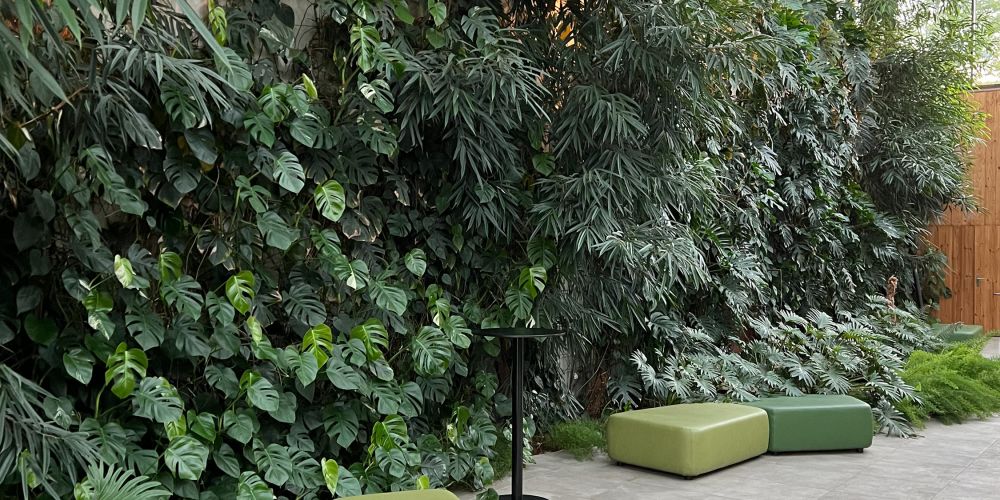 I barely have a moment to rest before being escorted into the kitchen to be greeted by the staff. I'm presented in front of The Truffle's Table where a chef is preparing a couple more dishes: Truffled egg and a Marianito cocktail topped with a truffled meringue.
I am then shuffled out of the kitchen and into The Greenhouse where I'm presented with a number of dishes at various stations. Asparagus presented like the bark of a tree. Apple cider that was herbaceous and delicious. Smoked salmon roe wrapped in perfectly dried and flavourful nori that provided the right amount of crunch. Lastly, a "Carranzana" black face cheese.
Dining Room
Next, I move on through another door and into the main dining room. I'm the first to be sat, placed in the first of a row of about a dozen tables facing the window, like theatre chairs and nature was the show. (Alas, as the sun set, the windows acted like mirrors and I spent more time looking at myself and the other guests than anything else.)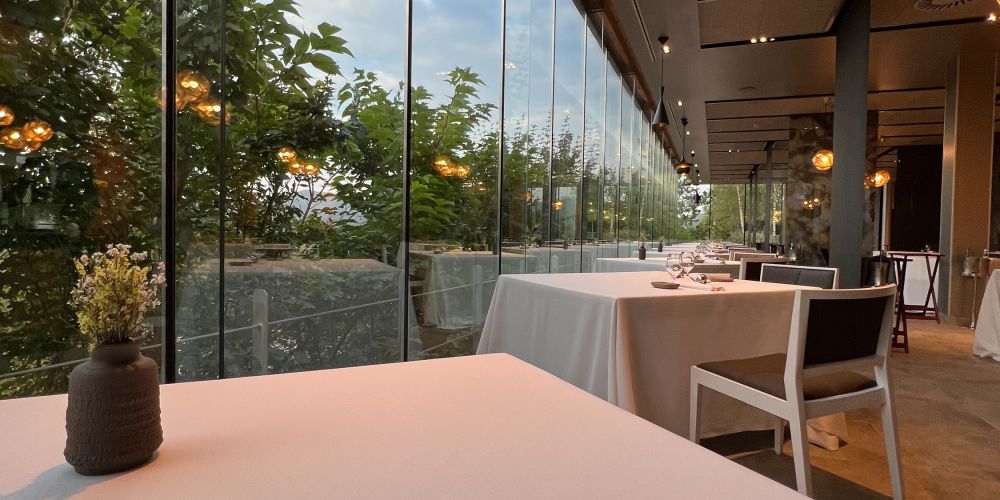 I started with a cocktail prepared table-side, with vermouth, St-Germain, and a lemongrass syrup. This was a great pairing with the first set of dishes: Limón grass, a foie gras with honey and lemongrass; talo of flowers; rose and nectar, a frozen shell filled with sweet rosewater; and a leaf (a much more flavourful leaf than the one at Mugaritz).
Next up, sea urchin, under a foam and flowers; pelayo squid nigiri, that was fantastic; and oyster and olive, deep fried umami deliciousness but needed to be enjoyed in multiple bites instead of the ambitious one bite I took.
Shrimp and herbal essence, served with its roe; frozen garden, which was very fresh and refreshing; and a cod tart that was dense and sticky. The tart was served with a champagne pairing and it really needed it. Due to the stickiness of the cod, the champagne helped lighten and cleanse the palate between bites. Without it, this dish would've quickly become overwhelming.
Lobster served in a rich sauce with grapes and cherries providing a fresh and sweet balance. Grilled tuna and caviar that was a bit disappointing. The caviar was lost in the richness of the tuna and was a single umami note without anything to balance it out.
Iberian pork, covered in truffle, that I worried was going to be too rich, definitely wasn't. That rounded out the savoury courses.
Fig ice cream provided a mild and not too sweet transition into dessert. Herb infused curds, honey, and a thousand flowers was prepared at the table with a Japanese hand-cranked contraption that shredded the cheese finely to make the dish melt in your mouth.
Lastly, cocoa and olive for the final dish. Not being a huge fan of chocolate, I wasn't blown away by this dish but I did find the olive ice cream provided a nice balance to the richness of the chocolate.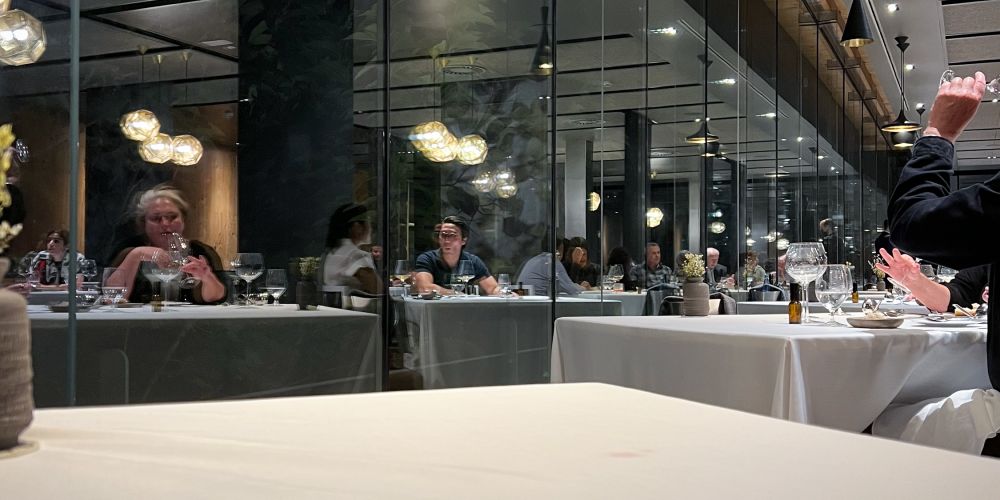 The wine pairings throughout the meal were quite good—especially the 2001 Chateau Lafite Rothschild—but I usually found myself disappointed in any of the sherries, aka Jerez. I swear I thought I heard him say one bottle had 120 year old sherry in it. But every time I try it, it always seems to have a secondary flavour that is like acetone. (Now, Port on the other hand…)
The Den
After dinner, I'm escorted into another room where I'm offered espresso and a tray of petit fours. I enjoy a little down time sipping on my so-so espresso and enjoying the delicious treats before hopping into the taxi back into Bilbao.
I was disappointed with the coffee throughout Spain. It certainly paled in comparison to the coffee in Oslo.
Verdict
Azurmendi does a great job of blending a great experience and delicious food. It reminded me of Enigma in Barcelona with the transition through multiple food stations while also maintaining a high level of delicious dishes throughout the meal. It was definitely near the top of the list for me and very much worth a visit.
Photos