Arzak
San Sebastian, Spain
August 18, 2022
Arzak was the 35th restaurant. It was 30th on the list in 2017 and 31st in 2018. It is also a Michelin 3-star restaurant.
A rainy day in San Sebastián but I vowed to make the walk over instead of taking a taxi. With a bit of luck, the rain held off and I made it just as the restaurant was opening up. There were about eight tables in the intimate space and I'm escorted to a table in the corner. I like having a view of the entire room, giving me time to watch everybody else, too.
A quatro of small dishes come out to start the meal: "Gazpachuelo de porrusalda" and red gumard, ear of blue corn, Chinese bread with "aji", and sardine with absinthe. The gazpachuelo is delicious with the red gumard adding a nice flavour to the soup. The ear of blue corn is surprisingly sweet and absolutely fantastic. It was like candy and probably could've been served as a dessert. The sardine was a bit bland, which after the experience at Elkano, I was perfectly okay with.
The fish of the day was a fermented mackerel. The seeds provided a nice crunch to contrast with the fish. The prawn was huge but very tasty. Probably my favourite part was the fried prawn legs. The prawn itself was cooked "with slight heat stroke" and, as expected, was perfect. After the experience with the lobster head at Elkano, I was scared about the prawn head. Thankfully, they prepared a sauce that was delectable.
---
I notice a chef walking around, talking to each of the tables. She even sits down with a family and I wonder if she knows them. She stops by my table and I share a bit about my adventure. "Are you a chef or in the industry?" "No, I just like good food," I smile back.
In my curiosity, I look up information on the restaurant and discover that I was talking to Elena Arzak. It was a delight seeing her so involved in making guests feel welcome. At many restaurants, the head chefs never interact with guests or do so with a wooden introduction mid-meal.
---
As some who know me, I'm not a fan of the taste of eggs. (I probably have mentioned it before on this adventure and will likely mention it again.) When the marbled egg came out, I had my doubts. The egg was poached, draped over with mushrooms and puffed rice. Mixed together, the egg gave warmth and depth. The rice gave some crunch. I liked this dish quite a bit.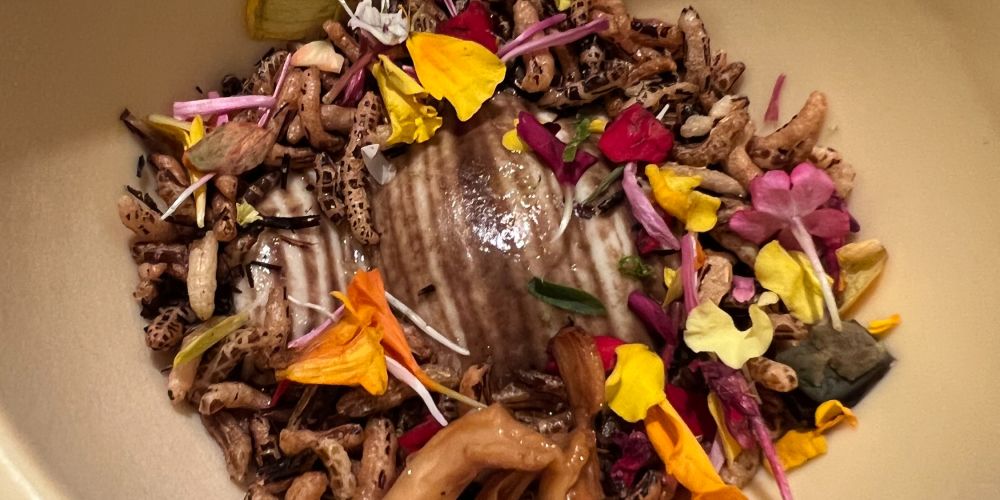 The monkfish was served with three mini-bites topped with fish skins that were absolutely fantastic. Definitely the best part of the entire dish.
The lamb with orzo ended up being my favourite of the savoury dishes. These courses can often be overly rich but Arzak served this up with a lightly rich sauce and the most perfectly cooked lamb. Maybe the best lamb dish ever I've ever had.
With a quick shift into dessert, I'm served a yuzu and cherry cream with mint crisp. This was three of my favourite flavours all in one dish and it did not disappoint. A stellar dessert.
Next up was Vietnamese chocolate that wasn't too rich. Again, not a huge fan of rich chocolate desserts and this was not that. The honey and carob with this dish was a great match.
This meal definitely ended on a high note with the last few dishes really excelling.
As I leave the restaurant, Elena makes a point to head over and wish me well. Such a lovely ending to a delicious meal.
The wine pairings were focused on Spanish wines, which I appreciated, since I like Spanish wines! Perfectly good pairings with no real surprises, good or bad.
Verdict
After Elkano, I was a bit worried but I needn't have been as Mugaritz and a side trip to Akelare really helped reset the high bar I was expecting on this trip. I wouldn't travel just for this restaurant like I might for Mugaritz but, if you're in San Sebastian, Arzak is definitely worth a visit. The food, wine, and service were all expertly delivered.
Photos